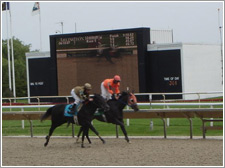 Demidoff-Hopeful Game by Game Xoda (Xoda)

Gray or Roan Filly Foaled May 19th, 2004 in Illinois
Bred by Marc Raben

Owned by Best Kept Secret Racing LLC
The word "champion" is defined in Webster's dictionary as "a person who has defeated all opponents in a competition or series of competitions, so as to hold first place." We would like to take a moment to tell you about our special horse that redefines that definition in every way possible.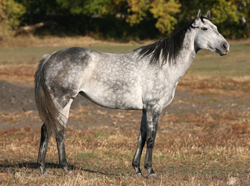 Secret Ta Gold was born on May 19th, 2004 at Castle Ridge Keep Farm in Crystal Lake, Illinois. Secret was a special filly from the first day she was turned out with her dam. She took off running down the street and had to be tracked down. At that point, we knew Secret Ta Gold wanted to be a racehorse. When she ran her ears would pin back, and we would swear a smile would be on her face. Secret was as fast as a bullet and would have strong works which led the leading handicappers in Kentucky to favor Secret Ta Gold in her first race.
Then disaster struck. In December of 2006, Secret was diagnosed with Arytenoid Chondritis of the left flap. We went to the best veterinarians in Kentucky, and they advised us to retire her. Secret had other plans. We found a veterinarian at Purdue Large Animal Hospital in Indiana, Dr. Jan Hawkins,DVM, DACVS, who performed the surgery to perfection.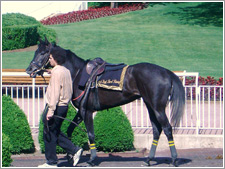 When we selected her name prior to her birth, we never knew the significance it would have for everyone with whom she came in contact. Her "gold dust" seemed to sprinkle off on people. Secret Ta Gold fought her way back against all odds to have her first race on June 10th, 2007 at Arlington Park.