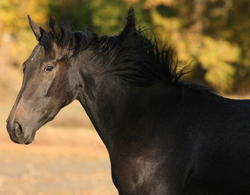 Repriced-Secret Ta Gold by Demidoff (Mr. Prospector)

Gray or Roan Filly Foaled February 24th, 2010 in Illinois
Bred by Best Kept Secret Racing LLC
Owned by Best Kept Secret Racing LLC
The spirited daughter of Repriced and the first foal of champion Secret Ta Gold, Silver Phoenix is a truly a racehorse in the making. When breeding Secret Ta Gold for the first time, we looked for two very important qualities. First, we wanted extremely limited inbreeding, especially in the five generation pedigree. The only horse that is shared by both her male and female line is Nashua, the two-time champion and 1955's horse of the year. This United States Racing Hall of Fame horse retired in 1956 with $1,288,565 in racing earnings. Secondly, we were looking for a proven sire line that excelled not only in racing but, also, that combined sheer size and soundness with flawless conformation. The sire line of Roberto is exactly what we were looking for in this matching. Roberto was a three time champion and winner of the 1972 Epsom Derby. He went on to sire such stallions as Kris S. and Dynaformer, who is the sire of 2006 Kentucky Derby winner Barbaro. Ideally, we wanted to combine the blistering speed of Secret Ta Gold with the soundness and conformation of the winning Roberto sire line.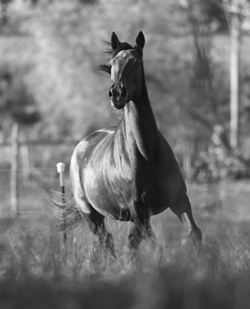 Repriced (Roberto-Feature Price by Quack), who is a lightly bred stallion, still manages to hold an astounding 14 percent stakes winning percentage per starter. He is a proven winner himself and, more importantly, one of the last living sons of the great Roberto.
Silver Phoenix was born on February 24th, 2010 at Castle Ridge Keep Farm in Crystal Lake, Illinois. She is already the same size as her mother and is still growing. Due to her being out of the large boned Roberto line, it is taking her longer to develop and grow into her large frame. Therefore, we have decided to take things slower and delay the start of her racing career for now. Silver is a spitting image of Secret at her age. She shares the same fight and spirit of her mother, yet still keeping a gentle side. She is currently spending her days sharing a large pasture with Secret. Her half brother, Talos, is close by.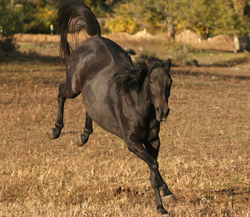 Silver Phoenix was named in honor of her dam, Secret Ta Gold. Silver is a precious metal. The phoenix is a mythical sacred firebird that has a 500 to 1000 year life-cycle, near the end of which it builds itself a nest of twigs that then ignites; both nest and bird burn fiercely and are reduced to ashes, from which a new, young phoenix arises, reborn anew to live again. This analogy of rising from the ashes not only could explain Secret Ta Gold's life but also acknowledges that she lives on through her daughter. Silver Phoenix's successes are in turn Secret Ta Gold's victories as well. The heart and courage of mother and daughter will always remain the same.

We hope that you will continue to follow Silver Phoenix and her upcoming racing career. She will follow in her mother's footsteps by racing for and inspiring sick children. Keep an eye out for her shortly at a racetrack near you, as she will attempt to confirm and validate the class, quality, and heart of our special Secret Ta Gold.