Make - A - Wish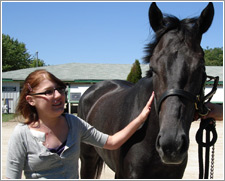 As Secret recovered from her surgery, we thought of how we could share her with sick children who needed a role model. We partnered with the Make- A- Wish Foundation in Illinois and started a program with children to introduce them to Secret Ta Gold. The children seemed to identify with her immediately and found happiness in her that most would never understand but them. Secret would race for those special children and carry their hopes and dreams of a better life in her heart and hooves.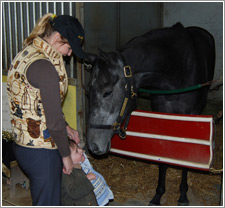 As Secret Ta Gold was preparing for her final race at Hawthorne Racecourse for a special four year old boy who loved horses, we discovered that she had arthritis in her hock and a torn suspensory. She was fighting through the pain to have one last run for a special person, but it was not meant to be. Secret Ta Gold's short racing career was over. In 2008, on a blustery late October Sunday at Hawthorne Racecourse, Secret Ta Gold met one more special child and then was quietly sent off to recover in retirement. She will continue to work with children.

There were neither cheers nor accolades as she departed. People will never speak of her like Barbaro or Secretariat. Her name will be quickly forgotten. But to us and to so many beautiful children, she will always be remembered as "our little Secret." The mother of her latest Make-A-Wish child said it best when she spoke of the relationship between Secret and her son: "My son has met his horse soul mate. They are alike in so many ways that most could never understand. The impact she has made on him will last his entire lifetime… They both may not do what we expected when they were born but are doing even greater things than we ever could have imagined."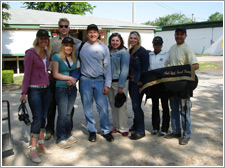 Secret taught the entire industry a lesson about heart, spirit, and the will to fight overcoming obstacles around every corner, and she took them on with grace and dignity. She made an impact on our sport that was different and unique. Let's not forget this champion.