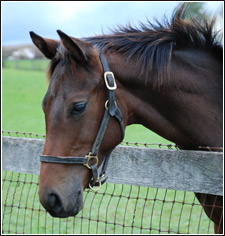 Go For Gin-Secret Ta Gold by Demidoff (Mr. Prospector)
Gray or Roan Colt Foaled March 5th, 2011 in Illinois
Bred by Best Kept Secret Racing LLC
Owned by Best Kept Secret Racing LLC
Talos, the second foal of Secret Ta Gold, was born on March 5th, 2011 in Illinois. Her first colt by 1994 Kentucky Derby winner Go For Gin is a truly special racehorse. Go for Gin won the 1994 Kentucky Derby (wiring the field), beating Holly Bull and Tabasco Cat. He also had second place finishes in the Preakness and the Belmont. Go For Gin still holds the fastest Kentucky Derby time of 2 minutes, 3.72 seconds on muddy or sloppy tracks. He retired with earnings of $1,380,866. Go for Gin is a half-brother to the late champion and leading sire Pleasant Tap. He comes from the direct female line of the remarkable foundation mare La Troienne whose descendants have won more classics than any other. Go For Gin is the sire of Grade One winner Albert The Great (who sired millionaire and Kentucky Derby runner Nobiz Like Shobiz and Albertus Maximus) who earned $3,012,490. This mating gets an A+++ rating, the highest and rarest possible from Werk Thoroughbred Consultants, Inc. This match is also very favorable among other nicking systems including True Nicks from Alan Porter. Secret Ta Gold and Go For Gin are free of any inbreeding but for one horse, Never Bend. Never Bend was a champion racehorse and a leading sire in England. Never Bend was the dominant two-year-old racing in the United States in 1962. His performance that year earned him the Eclipse Award for Outstanding 2-Year-Old Male Horse. He was also an outstanding stallion and broodmare sire.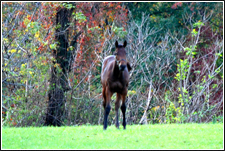 Go For Gin (Cormorant-Never Knock by Stage Door Johnny) was exactly what we were looking for in breeding with Secret Ta Gold. He produces hard knocking and well-balanced horses. His confirmation, soundness, and scope were some of the major factors in choosing him as a sire. Talos was bred to be a long distance horse that runs on the dirt under any conditions.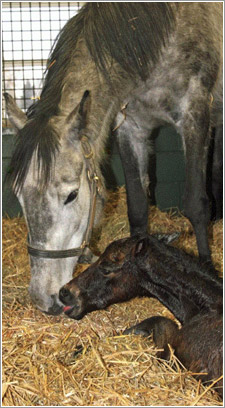 Talos was born solid brown with no white markings and stood within a few minutes. Inevitably, he will turn gray like his mother. He is already showing the desire to run, combined with a fiercely competitive side, while still being quite well mannered. He is built low to the ground and he is put together perfectly. Talos is quite impressive to look at and really looks and acts like a racehorse. He will begin his foray into the racing world shortly. We are very hopeful and excited at the wonderful potential that he is showing. Talos, the god of bronze, completes the trifecta of gold, silver, and now bronze into the Best Kept Secret Racing LLC family. His name was chosen with careful thought. In the Cretan dialect, Talos was the equivalent of the Greek god Helios, the sun: the lexicon of Hesychius of Alexandria notes simply, "Talos is the sun." In Crete, Zeus was worshipped as Zeus Tallaios, which means "Solar Zeus." He is our ray of light. Marc quotes in his upcoming book on Secret Ta Gold titled: My Best Kept Secret: The True Story of How One Race Horse Turned Dreams Into Sold Gold, "As she raced past all of us the vision will be burned into my mind forever. The last sight I can remember is the sun being so very bright and blinding. Secret Ta Gold disappeared past us into the golden sun leaving a trail of gold dust in her wake and our hearts." This is how we feel about our Talos. Now gold, silver, and bronze will forever be joined as one in heart and spirit.
Talos will continue in Secret Ta Gold's footsteps, leading the way, being a beacon of light for those who need a path to follow through the darkness. We hope that you will continue to follow Talos as he tries to follow in his father's footsteps as a racehorse and his mother's footsteps as a luminary of light for the sick. His journey nears…